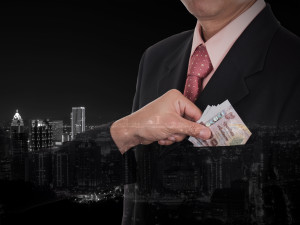 As union funds disappear, more union bosses are being charged with embezzlement. Here are this week's craziest rackets:
In Connecticut, Andrew Thibodeau, former Secretary-Treasurer of International Association of Machinists and Aerospace Workers (IAM) Local Lodge 1433, was charged in a one-count information for embezzling union funds exceeding $70,000. Thibodeau pled guilty to the charge.
In Ohio, David Sager, former President of United Steelworkers Local 5000, was indicted on three counts of filing false income tax returns. In September, Sager was previously charged with nine counts of embezzlement, 18 counts of mail fraud, one count of obstruction of justice, and one count of making a false statement to law enforcement.
In Indiana, Fenna Saylors, former Treasurer of National Association of Letter Carriers (NALC) Branch 378, pled guilty to one count of embezzlement. Saylors embezzled approximately $16,647.
Come back next week for more stories of union corruption.