Last week, UAW President Shawn Fain announced he was "proud" of the union's decision to endorse a ceasefire in Gaza, despite the terrorist group Hamas still being in power. He implied that the state of Israel was akin to Nazi Germany and apartheid South Africa. The UAW went on to call for a "divestment working group" to study the "union's economic ties to the conflict." This position led former Economic Policy Institute President Lawrence Mishel to publicly call out Fain for excusing the barbarism of Hamas.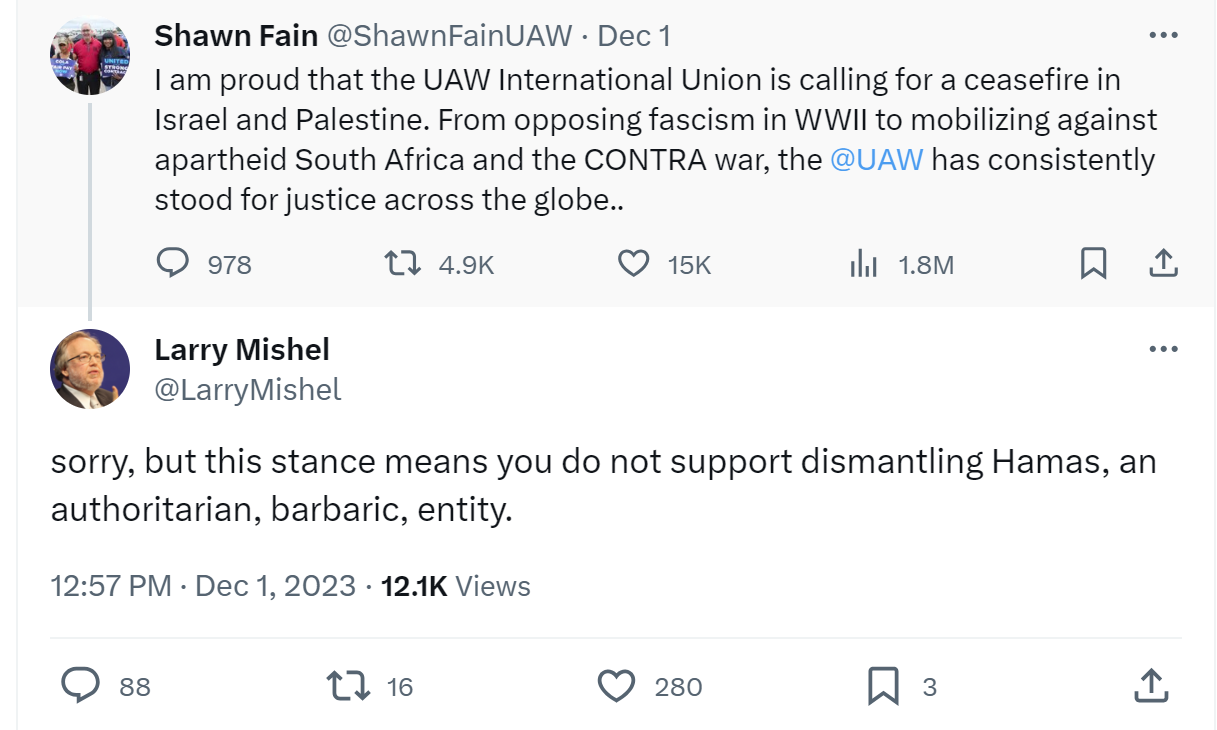 That's a strong criticism coming from Mishel, who has been a longtime supporter of the UAW.  The Economic Policy Institute has even hosted Fain as a speaker in the past, including on October 6 – just a day before Hamas launched its terrorist attack that killed about 1,200 people. 

The official UAW call echoes a number of statements made by various UAW locals. 

NYU graduate employees in UAW local 2110 released a statement blaming Israel for the terrorist attack it suffered. Student Workers of Columbia, affiliated with UAW local 2710, accused Israel of participating in a genocide and demanded that Columbia University divest from Israel. UAW members at Make the Road New York and The Bronx Defenders – affiliated with UAW locals 2320 and 2325 respectively – also accused Israel of genocide and ethnic cleansing. 
Unfortunately, this latest ceasefire call is the capstone to a troubling number of connections between Shawn Fain's United Auto Workers union and anti-Israel radicalism. 
Chris Brooks, Fain's strategist, is a former member of the national caucus of Marxist organizers (Bread and Roses DSA), which made a statement in support of "resisting military occupation, apartheid, and ethnic cleansing" the same day as the Hamas terrorist attack. 
The UAW's legal counsel Benjamin Dictor has been accusing Israel of ethnic cleansing since October, and has even suggested that Israel is attempting a "literal holocaust."
Both Brooks and Dictor were brought on by Fain and are now part of UAW leadership.
It's been two months since Israel suffered one of the most devastating attacks in its history, and instead of condemning terrorism, the UAW seems to be doing everything it can to stand against Israel.