After a six week strike, UAW members are now voting on a tentative contract deal between the union and the Big Three. But it looks like some members think the deal falls short of President Fain's many promises.
52% of UAW members at GM's Flint Michigan Engine facility voted down the tentative agreement with the company. They aren't alone. 51% of UAW members at Romulus Propulsion Systems did the same. 
Discontent with the deal seems to be alive and well even at the UAW's large assembly plants. GM's Flint Assembly plant and Ford's Kentucky Truck Assembly Plant, with thousands of employees between them, voted against the contract. 
Even Shawn Fain's previously praised update livestreams aren't safe. Irate commenters took to his most recent update to voice their displeasure with the agreement.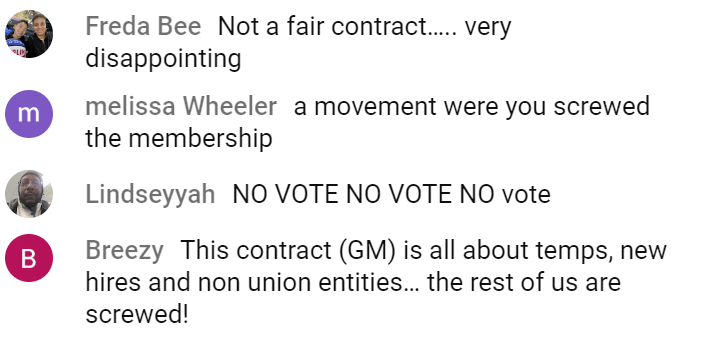 What's driving this backlash? 
UAW President Shawn Fain set expectations high going into this year's contract negotiations, touting his willingness to take on auto makers. 
But in the end, the UAW backed off from many of its initial demands. The union will not have a four day work week, nor will traditional pensions be reestablished. In short, Fain was far from able to live up to his rhetoric. 
Consider Fain's promise to fight wage tiers. Ending wage tiers featured heavily in signs and graphics that dotted picket lines and the union's promotional content. Fain referred to them as a "toxic divide" and said that "It's wrong to make any worker a second class worker. We can't allow it any longer in the UAW."
But a closer reading of the proposed contracts tells a different story. The tentative agreements with Stellantis and GM show that new employees at the companies' electric vehicle joint ventures will be paid at just 75% of the UAW's contract standard rate. In other words, the contract created a new wage tier. 
The pattern is the same around many other key issues of the strike. Fain promised a return to traditional pensions, but settled for an increase to employer 401k contributions. He also called for a 46% pay raise, but settled for a 25% increase – not much different from the original offers prior to the start of the strike.
Fain may have won a contract, but it's a far cry from the expectations he set. And it looks like workers know it.