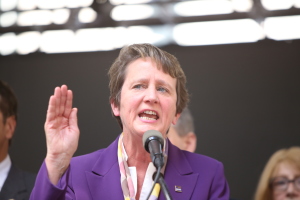 According to Jordan Barab, a former Labor Department official under President Obama and longtime union staffer, the Service Employees International Union (SEIU) is scrapping its health and safety program.
The SEIU—America's largest labor union and one of its most politically active—is laying off its last health and safety official, Mark Catlin, next month. As Barab notes, Catlin "has been [the] SEIU's lone health and safety staffer for many months." It's a curious personnel decision, given the SEIU's marketing shtick. Like many unions, the SEIU often touts the "pivotal role" it plays "securing legislated labor protections and rights such as safety and health, overtime, and family/medical leave and in enforcing those rights on the job for all workers." SEIU President Mark Kay Henry frequently positions herself as an expert on "health and safety."
While the SEIU's many locals are still representing healthcare workers, the SEIU's national department that was known for lobbying the Labor Department and other federal agencies to enact stricter workplace regulations is no more.
The SEIU is not alone: Last year, the American Federation of Teachers (AFT) also "dissolved its health and safety department when long-time director Darryl Alexander retired," Barab notes. (The AFT routinely boasts about its health and safety work.) In fact, the American Federation of State, County, and Municipal Employees (AFSCME) is "now the only labor union representing large numbers of health care workers that has full-time paid health and safety staff in their national office."
In 2005, the AFL-CIO merged its health and safety program with its government affairs department, which tells you a lot about Big Labor's priorities. Amid declining investments in health and safety, labor unions have ramped up political advocacy spending, shifting their focus from worker representation to political gamesmanship. After its $100 million Fight for $15 campaign saw drastic cutbacks last year, the SEIU quickly pivoted to a $100 million campaign aimed at electing pro-union Democrats in the Midwest.
Since 2010, union officials have sent more than $1.3 billion in member dues (without prior approval) to liberal advocacy groups, including the Democratic Governors Association, Clinton Foundation, and Planned Parenthood.