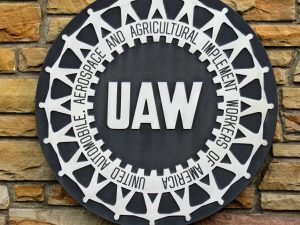 The current administration has been committed to weeding out corruption at the United Auto Workers (UAW). A multi-year investigation found two former union presidents, and numerous other high-ranking officials, guilty of helping embezzle hundreds of thousands of members' dues dollars. Now, government oversight of the union is on the table — but perhaps not for long.
Joe Biden has made it clear that "unions are going to have increased power" once he's president, and the UAW is no exception. During his presidential campaign, Joe Biden was sure to make an appearance at the UAW Region 1 headquarters in Michigan — despite the union's ongoing scandal.
Now, as he prepares to take office in 2021, Biden has met with several political allies in union leadership, including UAW President Rory Gamble. In fact, Biden met with the UAW leadership on the same day that federal prosecutors recommended a jail term of almost three years for a former UAW vice president.
It remains to be seen whether Joe Biden will choose to cut the UAW a break; the current U.S. attorney who has suggested government oversight of the union is a political appointee. But Biden should avoid prioritizing his pals in union leadership over rank and file workers.
After all, union members are still reeling from the crimes committed by their disgraced union leadership. This includes a long-standing scheme to funnel union funds toward luxury expenses, including "private villas, high-end liquor and meal expenses, golfing apparel, golf clubs and green fees." With that track record, it's no wonder workers at the Chattanooga Volkswagen plant have twice chosen to reject the UAW. As the investigation continues, more auto workers will likely do the same.
Holding labor unions accountable shouldn't be a partisan issue. If government oversight is the only way to reverse years of entrenched corruption at the UAW, the next administration should be committed to pursuing it.