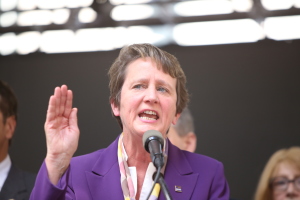 Last week, the Service Employees International Union (SEIU) ran a full-page ad in the Wall Street Journal highlighting its latest campaign to  "Protect All Workers." The ad was an open letter to America's CEOs from SEIU President Mary Kay Henry. In the ad, Henry asks these business leaders to implement a list of union demands in response to the ongoing coronavirus crisis.
Of course, the union expects "immediate action by major industries and corporations." If only the union had lived up to its own expedient expectations when it came to addressing sexual harassment allegations in its ranks.
Earlier this year, one of the SEIU's largest locals SEIU United Healthcare Workers West (UHW) settled a "contentious" sexual-harassment lawsuit filed against the union by former union employee Mindy Sturge. The lawsuit and subsequent testimony from union employees depict a union "plagued by sexual misconduct scandals."
Sturge said she believed former union leader Marcus Hatcher put something in her drink in an attempt to take advantage of her, saying she felt "violently sick shortly after drinking it." Another employee claimed UHW Vice President Stan Lyles assaulted her in an elevator. Yet another claimed SEIU Vice President Dave Regan was seen "drunk in meetings," and had a habit of making lewd comments about female employees.
Many more accusations are detailed at www.MeTooSEIU.com.
Some of the top union officials mentioned in the lawsuit continue to hold high-ranking positions at the union. As for President Henry, it appears she knew of the accusations and failed to take action against potential sexual predators. Staffers claimed their attempts to report misconduct were ignored.
One former employee Daria Alladio claimed she reached out to the International union to find out why her assaulter Pedro Malave was being hired by union affiliates. She received no response. Mindy Sturge said she reached out to the International with concerns about sexual harassment twice to no avail.
So much for "protecting all workers" being the "moral requirement of this moment, and always," like the union's ad proclaims. If the SEIU truly wants to "Protect All Workers," maybe it should start with its own. For that matter, workers counting on the SEIU to look out for their best interests should consider how the union treats its own employees.