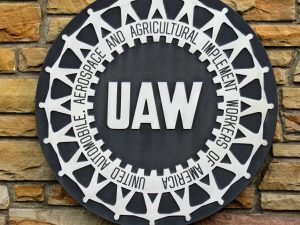 Yesterday was quite a whirlwind for the United Auto Workers (UAW). Just moments after the UAW's executive board moved to oust President Gary Jones, as well as Vance Pearson — another top official who has been charged in the ongoing corruption investigation at the union — Jones himself decided to resign.
Jones claims his decision to step down was made before he knew what the board was up to. Whether that's true or not, it's unlikely Jones was able to ignore the revolt against him among the UAW's own members. At least six local unions were reported asking for Jones' removal just one day earlier.
The resignation also came on the same day that General Motors (GM) filed a lawsuit against Fiat Chrysler Automobiles (FCA), seeking "recourse against FCA Group and its officials responsible for this long-running bribery scheme" with the UAW. The lawsuit documents a "near decade-long conspiracy to bribe senior [UAW] officials to corrupt the collective bargaining process and labor relations."
In the racketeering suit, GM claims FCA manipulated contract negotiations with the union in order to get itself the best deal, causing GM to incur "massive monetary damage." It describes how high-ranking FCA officials helped funnel money to UAW leaders through the union's National Training Center — a crime that resulted in the conviction of three FCA leaders.
So, just to recap, Jones' mere 17-month tenure with the union was marked by: An ongoing federal investigation into a wide scale scheme to defraud workers; Jones himself being accused of embezzling almost $1 million in union dues; 13 officials facing federal charges; and seven UAW leaders convicted of wrongdoing. Now, just add in Jones' resignation and a bombshell legal battle between two of the country's top automakers.
So much for Jones being a "steady hand" among labor leaders.
Jones' removal also brings into question the status of his other leadership positions outside of the UAW. For example, he remains on the board of the Economic Policy Institute — a think-tank notoriously backed by Big Labor interests.
There is one silver lining here: Auto workers that have recently voted against unionizing with the UAW, including workers at VW in Chattanooga, TN, now have further proof they made the right decision. As if they really needed it.