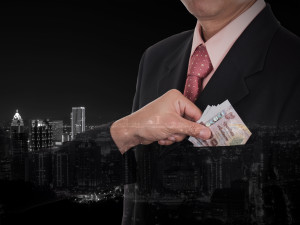 In union America, corruption is just another day at the office. Here are this week's best of the worst:
In Michigan, Jerome Durden, former Financial Analyst at Fiat Chrysler Automobiles (FCA), former Controller of the United Auto Workers (UAW)-Chrysler National Training Center (NTC), and former Treasurer of the Board of Trustees of the Leave the Light On Foundation (LTLOF), pled guilty to one count of conspiracy to defraud the United States by impairing, impeding, and obstructing the Internal Revenue Service. He prepared and filed tax returns for the UAW-Chrysler NTC and the LTLOF between 2009 and 2015 that falsely concealed millions of dollars in prohibited payments directed to former UAW Vice President General Holiefield (now deceased), former FCA Vice President Alphons Iacobelli, and others. Durden also pled guilty to one count of failure to file an income tax return for 2013. His sentencing is scheduled for December 12th, 2017.
In Maine, Ryan Jones, former Secretary-Treasurer of International Association of Machinists and Aerospace Workers Local Lodge S6, was indicted on one count of embezzling $280,865 in union funds.
In Maryland, Sophia Love, former President of American Federation of State, County and Municipal Employees Local 2751, was indicted on one count of theft of at least $10,000 but less than $100,000.
Circle back next week for more union shenanigans.