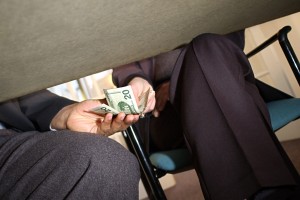 Teachers unions are ringing in the New Year with a lot of politics—and a little lawbreaking on the side.
They're doing it by funding a Colorado-based nonprofit group called Jeffco United, which claims to support education reform on behalf of school-age children. Jeffco United has received more than $265,000 in total from national and local teachers unions since its inception in May. The Denver Post reports:
The organization, a social welfare nonprofit with tax-exempt status, was established in May and received its first donation — $25,000 — from the Colorado Education Association, the state's largest teachers union. In total, the CEA gave $113,500 to the group, records show.

The national union was even more generous. The National Education Association gave $150,000 to Jeffco United in late August.
Now, it's common for Big Labor to fund various advocacy nonprofits. (In 2014, unions spent over $140 million on these groups.) But Jeffco United is no ordinary nonprofit. The group used union funds to lead a recall effort against three conservative school board members in Colorado's Jefferson County. And while the door-knocking and sign-waving drives were successful—all three board members were eventually ousted—they prompted an investigation into Jeffco United's ground campaign.
In December, a Colorado judge found Jeffco guilty of breaking campaign finance law, since the group engaged in overt political activity in violation of its nonpartisan status as a tax-exempt nonprofit. The judge ruled that Jeffco's "major purpose" was to support the recall of conservative officials, ordering it to either pay a fine and register as a political committee, or disband altogether.
The Jeffco fiasco shines a light on Big Labor's broader agenda: Quietly support left-wing causes through political advocacy spending, primarily funded by member dues. And it proves why we need the Employee Rights Act (ERA), which would allow union members to choose where their hard-earned dues money goes via a paycheck protection provision. The ERA would require labor organizers to obtain affirmative consent from the rank-and-file before spending any dues money on politics.
Working Americans shouldn't foot the bill for union politicking—especially when it breaks the law.