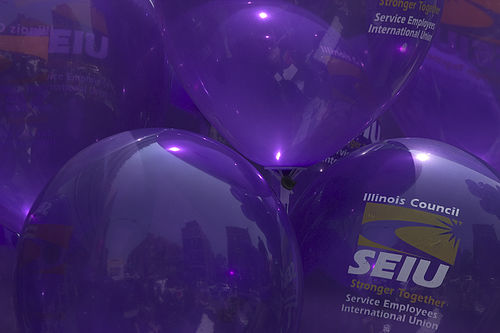 Seattle has taken a hard-left turn in recent elections pushed heavily by Big Labor, culminating in the city's recent decision to raise its minimum wage to $15 over three years. The latest effort is a ballot measure—titled I-107—that would capitalize on Mayor Ed Murray's call for universal pre-kindergarten education to sneak city taxpayers' money into SEIU coffers.
The Seattle Times editors are not amused by this latest scheme, calling it "a devious piece of self-dealing by SEIU Local 925." The editors explain precisely how the SEIU cash-grab would work:
I-107 also requires Seattle to hire an unnamed entity to communicate with Seattle early childhood instructors about new workforce development standards. The definition of this is written so specifically it appears only one entity meets it: SEIU Local 925, which has spent $132,550 getting to the ballot (The American Federation of Teachers has put in a similar amount). In short, the SEIU-funded initiative could require the City of Seattle to pay SEIU to unionize local child-care centers.
Since the editorial was written, SEIU Local 925 has funneled another $135,000 in contributions to the I-107 ballot measure committee ("Yes for Early Success"). SEIU knows how to win ballot campaigns in Washington State: Spend a boatload of members' dues money. To push a $15 minimum wage measure—with a carve-out for unionized under-cutting, naturally—in the city of SeaTac, home of Seattle-Tacoma International Airport, SEIU and its locals spent $331,200 (a total of $108.95 per vote in favor). If you include spending by the SEIU-funded "worker center" Working Washington, those amounts rise to $561,300 in total and $184.64 per vote.
And if Seattle proper falls for the dues-funded onslaught from SEIU, the effects could be dire for city finances. The Times editors argue:
[I-107] carries a whopping price tag. A fiscal analysis by city staff estimates the potential cost at $107 million the first year, and more than $80 million in each additional year. I-107 offers no way to pay for this.

Yet, the initiative also ensures that if Seattle fails to live up to this utopian ideal, families could sue. A confidential legal analysis by the Pacifica Law Group, working under contract with the Seattle city attorney, suggests this provision could result in serious potential liability for the city.
Of course, if its record is any indication, SEIU has a solution to that financial problem: Run another campaign to raise taxes. SEIU and its locals have spent millions—in California in 2012, SEIU and its state council spent over $9 million on Proposition 30, a set of tax increases—to ensure that more taxpayer money flows into SEIU coffers.