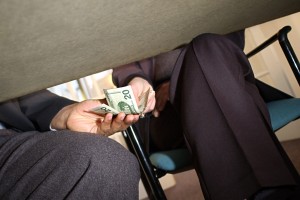 U.S. Rep. Mike Honda (D-Calif.) describes "organized labor [as] the strongest voice in our nation for the needs of working families." Now Honda has reportedly taken his affection for Big Labor to a new level: cohabitation. According to the San Francisco Chronicle, Honda located his 2014 re-election campaign office inside the headquarters of the Service Employees International Union Local 521.
Honda can't vote for himself in the 2014 election since he lives outside the district he represents. However, the San Francisco Chronicle discovered that Honda does maintain a campaign office within his district—2302 Zanker Road, San Jose, site of SEIU Local 521's headquarters.
Honda's love affair with SEIU is nothing new; the union's PAC has funneled $17,700 to Honda's campaign over the last three election cycles. But moving in with a major donor represents a new level of commitment, one which is raising legal questions. Jessica Levinson, who teaches election law at Loyola Law School, asked, "My main question is: Is (SEIU) basically giving him a donation by letting him use the office for less than what a member of the public would pay?"
How many other politicians are shacking up with union beaus and getting a sweetheart deal on the rent? It's impossible to say, but unions are notoriously partisan — even with member dues. That's why a piece of proposed federal legislation — the Employee Rights Act (ERA) — has a provision that would require unions to obtain affirmative consent to use dues money for political purposes.
Voters are left to wonder what Honda and his new roommates will be up to in their new digs. Our guess is the pillow talk won't include the ERA, which would benefit the working families Honda ostensibly supports by guaranteeing their right to a secret paper ballot election on whether to unionize, which is typically anathema to the SEIU. Then again, supporting working families and supporting Big Labor are entirely different matters.