Center for Union Facts calls out the American Federation of Teachers for contributing to the decline of U.S. education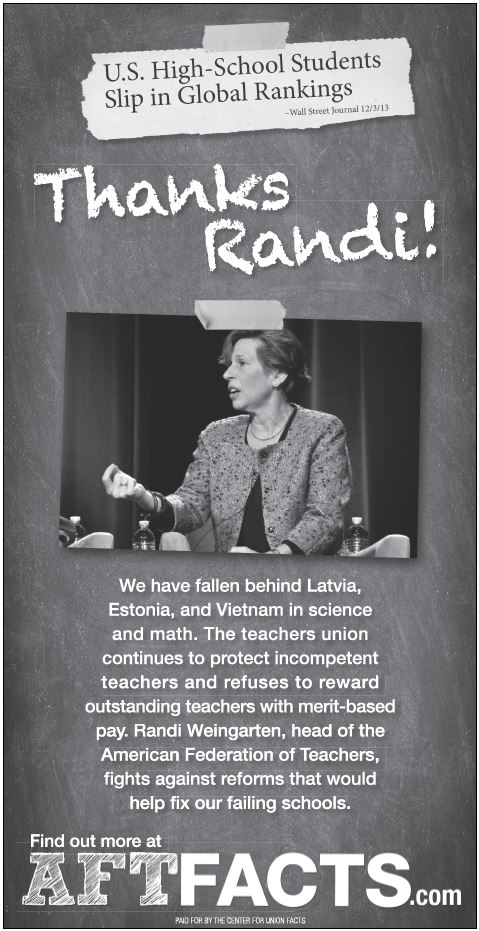 Washington, D.C. – As part of its ongoing campaign against the negative effects of teachers unions on education in the United States, today the Center for Union Facts is running a full-page ad in The New York Times calling attention to the contributions of the American Federation of Teachers to America's academic decline. The ad focuses on the fact that instead of rewarding excellent teachers with higher pay, Randi Weingarten and the AFT protect incompetence in the classroom by opposing merit-based pay at every turn.
The ad can be viewed here.
The ad begins by citing a recent Wall Street Journal headline that reads, "U.S. High-School Students Slip in Global Rankings," referring to the latest Program for International Student Assessment (PISA) results in which U.S. 15-year-olds continued to underperform in the subjects of math, science, and reading comprehension relative to their international peers.
The ad continues, "Thanks Randi!" and shows a picture of AFT President Randi Weingarten. The body of the ad reads, "We have fallen behind Latvia, Estonia, and Vietnam in science and math. The teachers union continues to protect incompetent teachers and refuses to reward outstanding teachers with merit-based pay. Randi Weingarten, head of the American Federation of Teachers, fights against reforms that would help fix our failing schools."
The ad concludes by prompting readers to learn more at AFTFacts.com, a website operated by the Center for Union Facts for the purpose of exposing the corrosive effects of the nation's second-largest teachers union on public education.
Richard Berman, executive director of the Center for Union Facts, says yesterday's "Day of Action" is no more than the latest attempt by the powerful teachers union to pull the wool over the public's eyes: "Randi Weingarten doesn't care about reforming schools in the name of quality education; she cares about exploding government budgets in the name of filling her union's bank account."
Berman concluded, "Opposing merit-based pay for top-performing teachers is only the latest example of the AFT's militant opposition to nearly every credible education reform that would reverse the decades-long decline in U.S. k-12 education."