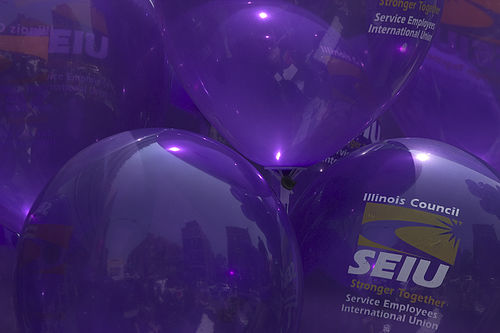 We noted earlier this week that the Service Employees International Union-backed worker centers, following a playbook to organize restaurant workers by an intimidation-laced national card-check campaign, were going to protest fast food franchises. They did, and basically nothing happened—all the "strikes" were stage-managed stunts.
You don't have to take our word for it: The Associated Press report from New York City on the protests indicates that this week's actions weren't all they were promoted to be. The AP reporter explains:
It was a far smaller showing than other recent protests in New York City and it wasn't clear how many participants were fast-food workers, rather than campaign organizers, supporters or members of the public relations firm that has been coordinating media efforts. Still, the latest rallies reflect the push by labor groups to keep continued pressure on the issue of worker pay.
It's not at all surprising that the crowd might be overpopulated with professional organizers and BerlinRosen (the public relations firm for SEIU, prominent union-backed New York Democrats, and other unions) staff: As far as anyone — even the labor movement newspaper In These Times — can determine, a sizable number of union-backed "worker center" actions are. Here's a brief lineup of other "worker center" actions backed by SEIU, the United Food and Commercial Workers, and other labor groups that look less like employee-led actions and more like stage-managed press stunts by professional organizers.
Since worker centers came on the scene a couple of years ago, we've been warning employees and policymakers that they aren't much more than old-style labor unions in disguise. (You can see our effort from The Wall Street Journal last December at right.) Now, the national media is taking notice that worker center actions are stage-managed P.R. stunts with little participation from the employees supposedly "on strike."