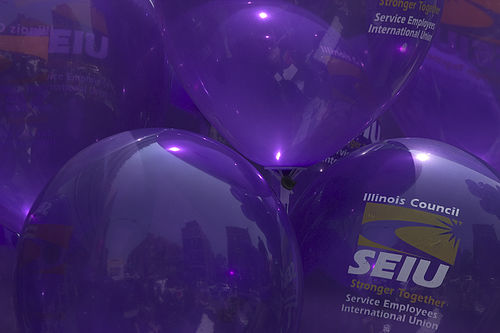 In an age of unions-in-all-but-label-only "worker centers," the traditional union brand-attack corporate campaign has fallen somewhat out of favor. Not in Pittsburgh, though: The SEIU, partnering with public relations firm Berlin Rosen—both also deeply involved in New York City's Fast Food Forward worker center campaign—has taken to the streets to pressure the University of Pittsburgh Medical Center (UPMC) to unionize its service workers. With private-sector unionization on a slight upswing from its record lows of recent years, SEIU and its supporters are eager to proclaim a "national movement" of unionization coming from a former stronghold of the unionized steel industry.
One thing is (thus far) missing from the campaign, which has tied up Pittsburgh rush-hour traffic on at least one occasion according to news reports: A petition for representation. A UPMC official told the Pittsburgh Post-Gazette:
"The SEIU has failed to organize our employees despite their attempts for more than two years," Mr. Wood said. "There has been neither petition nor vote, and clearly our employees have spoken by choosing not to have the SEIU represent them."
So what's going on? In all likelihood, the SEIU—with assistance from Pittsburgh Mayor Bill Peduto, elected with strong union support—is looking for a card-check agreement from UPMC before presenting a petition. These agreements—which would be outlawed by a proposed piece of federal legislation, the Employee Rights Act (ERA)—allow unions to pressure employees into signing cards that unionize the workplace without a private, secret ballot vote. The ERA would require secret ballots to unionize, a position supported by over 80 percent of Americans including 85 percent of union households.
If SEIU really believes that it has employee support, it should stop blocking traffic and calling in political favors and file a petition to have a vote. But with unions struggling to win high-profile organization elections by secret ballot vote to save their lives, maybe their assumptions of employee support are just wrong.