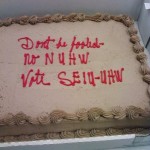 Usually when the SEIU is in a (figurative) dogfight with another group, it isn't another union. In California though, the SEIU is fighting another union (the National Union of Healthcare Workers or NUHW) for the right to represent employees of Kaiser Permanente hospitals.
SEIU, which lost 45,000 members last year, currently represents Kaiser employees, but the NUHW (which incidentally is run by former SEIU officials) wants the possible dues windfall that poaching them offers. The Wall Street Journal reports on how the battle is playing out:
The SEIU is pulling out all the stops to hold on to Kaiser Permanente. Over the past five years, the SEIU has spent tens of millions of dollars to fend off the NUHW. The smaller union represents just 10,000 workers, but is backed by the California Nurses Association, which has provided $4 million to the NUHW since the beginning of the year, according to NLRB testimony by an official at the nurse's union viewed by The Wall Street Journal. That is on top of a $2 million loan the nurse's union made in 2009.
There's clearly a lot of dues money at stake, as well as prestige. The Journal notes that losing the Kaiser bargaining units to NUHW would lead to a reduction in SEIU's membership of up to 45,000 workers. As the Journal notes, with workers more reticent to sign on indefinitely with a labor movement with a checkered recent record, the NUHW model of raiding an existing union for new members becomes attractive.
Only 6.6 percent of private-sector workers are now unionized, the lowest level of private-sector unionization in 70 years. That's as strong a sign as any that workers are fleeing the sinking ships of un-reformed labor unions. Thus far the labor movement has rejected widely supported reform proposals like the Employee Rights Act that might bring some of those workers back. Until they do, unions will have little to do but fight over the scraps.