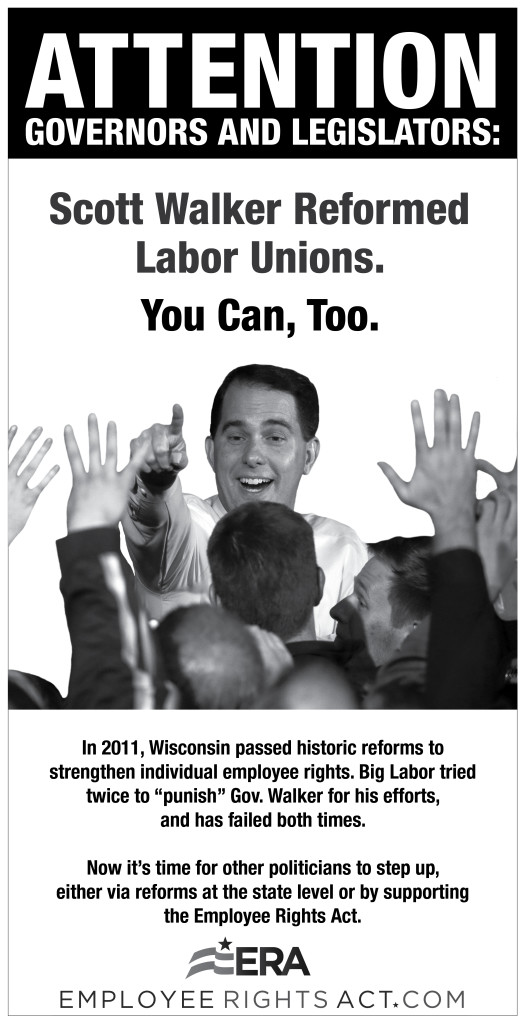 Former Speaker of the House Newt Gingrich continued his work in support of employee rights today with an op-ed (co-signed by our Executive Director) published by the Washington Post. Looking at the recent midterm election results, they find a pattern in the victors' platforms:
On Election Day, voters didn't just rebel against President Obama. There was another pattern in the candidates they chose: Across the country, they picked pols who explicitly supported individual employee rights. …

Govs. Scott Walker of Wisconsin and Rick Snyder of Michigan, for instance, both won reelection after pushing through significant employee-friendly reforms in their first terms. Even in deep-blue Illinois, Republican Bruce Rauner campaigned on a platform to give state employees the right to decide for themselves whether to join a union.
In these and other cases, politicians who stood up for individual employee rights against the power of union bosses had success. We can add more: Bill Cassidy, Tom Cotton, Cory Gardner, and James Lankford — all sponsors of the Employee Rights Act (ERA) in the 113th Congress — earned "promotion" from the House of Representatives to the U.S. Senate.
Reflecting on these results, the Speaker and our Executive Director call upon the newly elected Congress (which will be seated in January) to take up the Employee Rights Act:
The best legislative vehicle for advancing those rights is the Employee Rights Act (ERA). Led by Sen. Orrin Hatch (R-Utah) and Rep. Tom Price (R-Ga.), the ERA has 29 co-sponsors in the Senate and more than 100 in the House. It's the most significant rewrite of the National Labor Relations Act in decades, with a twist: Instead of the gridlock that comes with trying to rig labor law to benefit either unions or employers, it focuses squarely on the rights of the employees. (All of the law's provisions can be viewed at EmployeeRightsAct.com.)
With the National Labor Relations Board just last week making a major move to strengthen union boss power at the expense of employee privacy, the time could not be riper for legislators to make moves to strengthen employee rights. When the new legislators are seated, Congress must move forward with ERA.