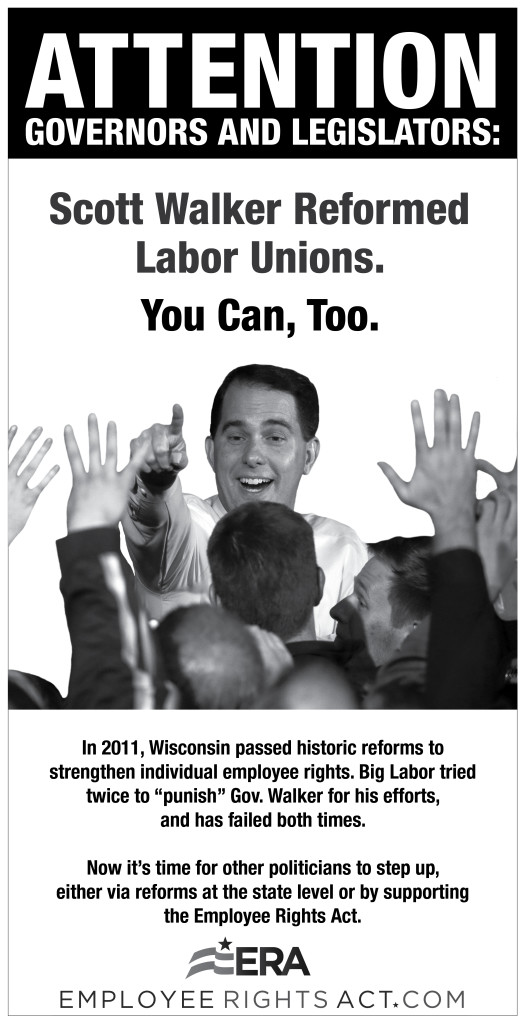 Wisconsin Governor Scott Walker earned the deep hostility of Big Labor for pushing a package of public-sector employee rights reforms — part of budget repair legislation titled Act 10 — in 2011. A recall election and a re-election later, both Walker and the Republican state legislative majorities that passed Act 10 are still standing.
Richard Trumka, Mary Kay Henry, and other union bosses who spent big to unseat Walker may soon learn some "lessons" from The Wire: "Come at the king, you best not miss."
Wisconsin's emboldened state legislative majorities are beginning discussions on making the Badger State the 25th "right to work" state that prohibits the conditioning of private employment on an employee's payment of union fees. State Assemblyman Chris Kapenga has said that he will introduce a right-to-work bill in the next session, and Speaker Robin Vos has expressed openness to the concept. And while Walker has said that he isn't going to lead a right-to-work fight, it is probable that he would — like his fellow (re-elected) reformist Governor Rick Snyder of Michigan — sign a bill if it made it to his desk.
We're pleased to see that the movement to increase the rights of individual employees continues to grow. As we noted in our recent USA Today ad, it's time that federal legislators follow their state-level colleagues on the path of employee rights reform. Polling shows that over 80 percent of Americans—and similarly large majorities of union households—support the package of reforms in the Employee Rights Act (ERA).
Walker, Snyder, and the ERA co-sponsors who earned promotion from the U.S. House to the Senate show clearly that employee rights reforms are at worst no harm and at best a boon to those who stand up for them. When the new Congress convenes in January, it should put these reforms and the ERA on top of its agenda.