There's an old saying: "If it looks like a duck, swims like a duck, and quacks like a duck,  it's probably a duck."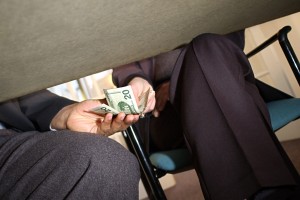 The same principle holds for corrupt federal agencies. The Washington Examiner's Luke Rosiak recently covered the departure of labor union-friendly lawyer George Cohen from the Federal Mediation and Conciliation Service (FMCS) — a federal agency charged with mediating labor-management contracts — amid a Congressional investigation into the agency's spending and conduct. It turns out Cohen's employees were spending hundreds of thousands of taxpayer dollars on everything from cars and new cabinets to flat screen TVs and coat racks.
The FMCS has given $105,000 to an Albany public employees union, $103,000 to the Service Employees International Union, $101,000 to Wisconsin construction unions, $94,000 to the SheetMetal Workers' Union, $83,000 to a mechanics union, $53,000 to Nebraska police unions, and $35,000 to a Massachusetts correctional officers union, among other grants for dubious activities.