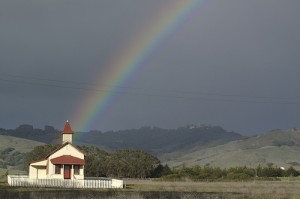 Remember a while back when a Rhode Island district unceremoniously fired an entire school of teachers when they refused to agree to do more work — for more pay — in a school that was failing in almost every way (high dropout rates, laughably bad test scores, etc.)? A reminder:
Her plan calls for teachers at a local high school to work 25 minutes longer per day, each lunch with students once in a while, and help with tutoring.  The teachers' union has refused to accept these apparently onerous demands.

 

The teachers at the high school make $70,000-$78,000, as compared to a median income in the town of $22,000.
Well, the teachers were rehired … but only after they caved to each and every demand laid out by administrators.
Under the agreement, which is expected to receive final approval next Tuesday by the Board of Trustees, teachers will be required to work an additional 30 minutes a day, devote 90 minutes after school every week to planning, and submit to rigorous evaluation to retain their jobs after the 2010-11 school year.

 

The teachers will also eat lunch with students one day per week, attend five to 10 days of professional development every summer, and accept a staffing policy that eliminates strict seniority. The high school principal will be replaced.

Teachers at the 850-student school will be paid for the extra work, Gallo said.
The teachers didn't really have a choice. Their traditional allies ignored their plight; even the President of the United States said the firing was a good thing:
"If a school continues to fail its students year after year after year, if it doesn't show any sign of improvement, then there's got to be a sense of accountability,'' the president said. "And that's what happened in Rhode Island.''
Combined with a weak economy — almost a thousand teachers applied for the spots that would have opened up in Rhode Island should the firings have become permanent — these hardball tactics broke the union without too much difficulty. As a result, the children of Central Falls, R.I. will now have the benefit of teachers who put in something closer to a full day's work. This is the first step toward improving their lives; demanding accountability from their well-paid educators is the next step.
Image courtesy of jkirkhart35