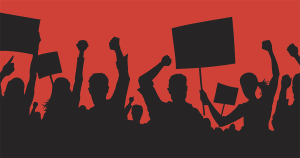 Service Employees International Union officials are throwing accusations at each other over a major power play by national President Mary Kay Henry in California. Henry is fighting with Dave Regan—President of the United Healthcare Workers local and a Vice President on SEIU's International Executive Board—for control of 70,000 of Regan's members.
Henry has ordered Regan's United Healthcare Workers (UHW) local—the largest union local in California—divided, with 70,000 of Regan's workers moved into a new union, SEIU Local 2015. The new union will be bigger than UHW. That has Regan spitting fire at his boss, Mary Kay Henry:
Regan said the local's leadership first officially heard about the plan to downsize UHW in January, but believes it was hatched last October and has roots in years of enmity between local and national leaders.

"We are absolutely clear this decision is malicious and undertaken with the full knowledge that the interests of California healthcare workers are being sacrificed to the political needs of Mary Kay Henry," Regan wrote. "We are ashamed and embarrassed for our Union."
The internal squabble which makes a mockery of unions' claims that democratic leadership elections give members meaningful influence over the organizations' directions will continue, as the process of creating Local 2015 will begin in the coming months. In many ways, the fight echoes the 2009-10 dispute between Regan, a protégé of then-SEIU President Andy Stern, and Sal Rosselli, whom Stern had deposed as head of UHW and who subsequently ran off to form his own union, the National Union of Healthcare Workers. Rosselli was entertained by Regan's new predicament:
When I reached Rosselli by phone, he thoroughly enjoyed the irony of the situation, noting that Regan is now tangling with Henry over the same issue that splintered the union almost seven years ago, whether long-term-care workers are better off in UHW and other broad health care locals or in a specialized unit.
We can expect more fireworks from both sides in this dispute, as control of tens of thousands of union leadership proxy votes and hundreds of thousands of dollars in dues money are at stake.