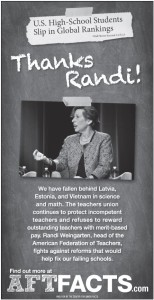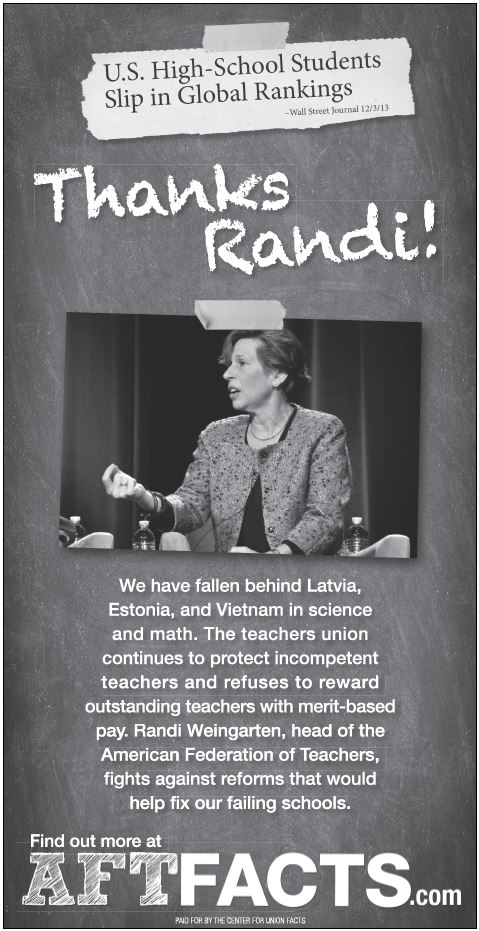 Today, American Federation of Teachers President Randi Weingarten will be in Kiev rallying for the interim government of Ukraine, far from the controversies she left in New York. We're not sure how this helps teachers or students in the U.S., but if she wants to support the Ukrainians we suppose that's her prerogative.
It's a clever P.R. stunt that comes after a brutal week for Randi, the American Federation of Teachers, its New York City local (the United Federation of Teachers or UFT), and their political patron, New York Mayor Bill de Blasio. At the UFT's bidding, de Blasio has waged a campaign against charter schools in New York, especially Success Academy, a charter network run by Eva Moskowitz. Moskowitz came to notoriety for shining light on ridiculous provisions in the New York City Public Schools' union contracts while she was a city councilmember; that earned her eternal enmity from Randi (then UFT boss).
But the de Blasio/Weingarten vendetta hasn't satisfied the public: The response to the move to close several Success locations has been mass rallies to save the schools and a rebuke from de Blasio's fellow Democrat, New York Governor Andrew Cuomo. One commentator argued that by doing the UFT's bidding in closing down charter schools (something a pre-2013 election Quinnipiac Poll found received a pathetic 18 percent support), de Blasio "misread his mandate." It remains to be seen if de Blasio will turn back or whether he will continue to do Randi's dirty work while Weingarten herself struts on the international stage.