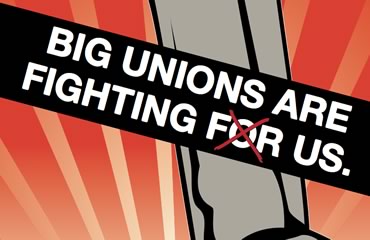 We've written many times before about the utter shamelessness of labor unions when it comes to getting what they want, even if it means deploying Westboro Baptist Church-style harassment tactics against families grieving the loss of loved ones. So it was with little surprise when we read a story out of San Diego today about a 16-year-old who was intimidated by "his" union to the point that he had to file a complaint with the National Labor Relations Board for reprieve.
According to a local news story:
A 16-year-old greeter at a Ralphs grocery store in Oceanside has filed a complaint against the United Food and Commercial Workers Union Local 135 . . . claiming he was not able to withdraw from the union without pressure. . . . He alleges that the union was not upfront and presented obstacles to his right to opt out of full membership and therefore pay smaller dues that go only to activities directly with the employer, such as collective bargaining.
In essence, he wanted to exercise his legal rights not to pay the portion of union dues that goes directly toward political activity he may not agree with or believe in. So how did the UFCW local respond to this demand? Typically:
[W]hen he went to opt out of membership . . . the union demanded he go to the [union's] main office and present his Social Security number to exercise his right not to join. It also sent him a letter Aug. 16 threatening that he would be fired if he didn't pay his initiation fees by Sept. 13.
Based on how aggressively the union behaved, you'd think the amount of dues at stake was a significant chunk of change. Think again. It turns out all of this is over a measly $5.41 per month, the difference between a full membership and the reduced membership the kid was seeking.
Stories like these are exactly why we need the Employee Rights Act, which, among other things, gives employees the right to refuse support for a union's political operations or support of political parties or candidates. We challenge any union leader to explain how that's a bad thing.