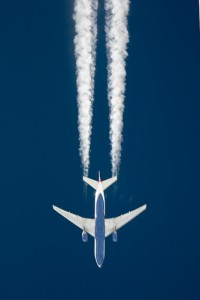 As much as they might speak out against them, private sector unions need employers to stay in business and be successful if the union wants to remain in existence.
Private sector unions know that they must avoid deals that put the employer at risk of failing, whether through high costs to consumers or further imperiling a financially-unstable company. If the business fails, then the union is no more and the members are unemployed.
Note to American Airlines pilots: you're doing it wrong.
The pilots are engaged in a labor battle with the bankrupt AMR Corp., the parent company of the airline. Reports are that this strife is the reason half of all American flights have been late since mid-September. An airline blog explained that pilots are calling in more maintenance problems, and calling them in at inopportune times, causing the massive delays and cancellations.
Slate's Matt Yglesias explains:
The basic issue is that American Airlines filed for bankruptcy in December not primarily to restructure its debts but to restructure its contracts with the unions that represent its workers. The company successfully used the threat of court orders to induce almost all its unions to agree to givebacks, but they couldn't come to agreement with the pilots. Then on Sept. 5, American got a bankruptcy judge to throw out its pilots' contract. Thus since mid-September the pilots have been essentially sabotaging the airline.
Even your everyday passengers are catching on. A Tuesday flight taking off from the carrier's hub in Dallas headed to St. Louis made an emergency landing after the pilot reported problems with the landing gear. The reported problems were solved before landing back at Dallas—but not before passengers were told to brace for impact of a crash landing. One passenger was skeptical:
"Some people are cheering as we landed, and the rest of us are thinking, 'Is this a scenario they created, or was it real?'" passenger Jeff Estes said. "Are they really heroes, or are they guys just creating a job action?"
And there are also passengers who are literally falling out of their chairs. Three separate flights in the last week had rows of seats coming loose mid-air. American now says that the seats were improperly installed, and that they don't believe this malfunction is related to union problems.
In the meantime, votes are coming in from the 8,000 pilots on whether they want to authorize a strike.
All of these issues, real or concocted, create serious problems for American Airlines—cancellations and unnecessary maintenance is costly and consumer confidence is low. (Yglesias's article is titled "Friends Don't Let Friends Fly American Airlines.")
Again, American Airlines is in bankruptcy. There might not be an American Airlines in the not-so-distant future.
And that's the point the pilots union must be missing. It can always hope for a merger or some other business maneuver that will save jobs while simultaneously tossing the employer. But that still imperils the union, an organization that cannot exist without an employer.
As Yglesias puts it:
Long story short, American is totally screwed. What management is discovering right now is that formal contracts can't fully specify what it is that "doing your job properly" constitutes for an airline pilot. The smooth operation of an airline requires the active cooperation of skilled pilots who are capable of judging when it does and doesn't make sense to request new parts and who conduct themselves in the spirit of wanting the airline to succeed.
The pilots union may not want American Airlines to succeed, but the union may soon learn that it needs to cooperate with an employer in order to survive.