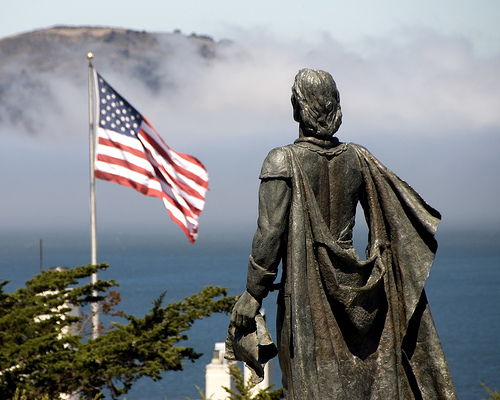 The SEIU Local 1000 wants every state worker in California to know that they can take Columbus Day off, regardless of what the Department of Personnel Administration says.  Part of the approved budget from February, the holiday was to be eliminated along with Lincoln's birthday, but the SEIU says this contract cannot be enforced. 
Everyone better be in their desks come next Monday. From KCRA News:
"While it is true that the Legislature changed the law, this was done as part of contract negotiations where we exchanged Columbus Day and Lincoln's Birthday for two personal days," wrote SEIU Local 1000 President Yvonne Walker in an e-mail sent to members on Friday."When the Governor broke his word and failed to get our contract ratified by the Legislature, he also lost the ability to implement the new terms of our new contract. Therefore, our current contract, which grants Columbus Day as a holiday, is still in force.
"In response, the Department of Personnel Administration posted a notice on its Web site warning workers that they must use personal leave time to take off Columbus Day, and that if they do not get prior approval they will not be paid and will be considered absent without leave."The two state holidays were eliminated," governor's spokesman Aaron McLear told KCRA 3 Friday evening. "It was passed in a budget. It was nothing to do with any contract."
Image courtesy of Jippolito.