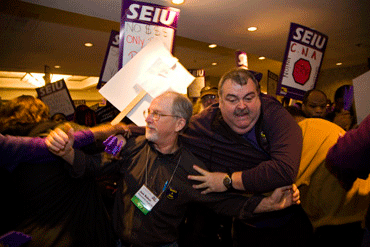 And SEIU's saga continues.
The New York Times' Steven Greenhouse reports  that the California Nurses Association (CNA) has lost its petition for a restraining order against SEIU  and its president Andy Stern.
The case between the CNA and SEIU is less than a month old, but its already generated more than 200 pages of court filings. I wonder how much this grand-standing lawsuit is costing their respective members? Court filings don't write themselves; lawyers write them for hundreds of dollars an hour.
If you're interested, I have put all the recent filings into a PDF (10megs). And if you want to keep tabs on the lawsuit, the most recent documents are buried deep within the Superior Court's website.