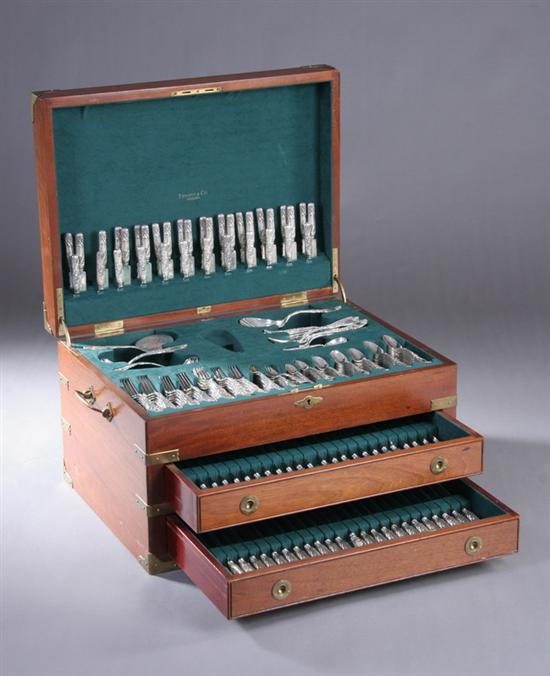 This morning's Washington Post reports that this weekend the Washington Teachers Union will be auctioning off a host of luxury items, including Tiffany silver, minks, and jewelry. Where did it all come from? The union's bank account, which was robbed by its own president, Barbara Bullock, at the head of a cabal of union officers and employees devoted to lining their own pockets. The picture at right is the pièce de résistance of the Bullock collection: a 288-piece set of Tiffany silver flatware. For the curious, the set includes:
twelve of each: teaspoons, fruit spoons, demitasse spoons, ice cream forks, seafood forks, fish forks, fish knives, dessert knives, luncheon knives, new French dinner knives, butter spreaders; 24 of each: blunt dinner knives, dinner spoons, dinner forks, luncheon forks, salad forks; 23 dessert spoons, four serving spoons, three serving forks, sauce ladle, gravy ladle, berry spoon, sugar spoon, tomato server, sugar sifter.
All of this (including the tomato server) was purchased for more than $100,000. But the auctioneers don't expect to earn all that back for the members of the Washington Teachers Union — it could be yours for $35,000 or less: bid now!
The Post adds: "The feds also seized electronics that will sell at another auction — except for the TV that union officials kept for headquarters." You can visit the auctioneer's website to see more of the swag purchased with ill-gotten union dues money. Check out lots 906-941 for Bullock's handbag (Fendi! Chanel! Hermès!) and fur collections, and click here for the lowdown on just what Bullock and her co-conspirators did.