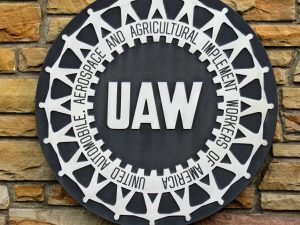 Former UAW President Gary Jones has officially been charged by the federal government for embezzling over $1 million in union funds. He is expected to plead guilty.
While we can't say we're surprised (see our
"WANTED" ad
for Jones that ran last November), the charges against Jones certainly don't inspire faith in the UAW among its rank and file.
Court documents
describe a years-long scheme to divert money from the UAW for Jones' personal use and the use of other UAW officials. Jones reportedly
used the money
to "splurge on private villas, golf outings, boozy meals and horseback rides on the beach."
In its official
response
to the charges against Jones, the UAW quickly pivoted from reprimanding Jones' behavior to attacking the
Detroit News
, an outlet that has provided essential coverage of the union's wrongdoing
.
The UAW claimed that by reporting on the corruption scandal, the
News
was "intentionally trying to harm the UAW and its members." From our perspective, it seems like the union has done enough "harm" on its own.

(Also, here's a pro tip for the UAW: Maybe try working an apology to union members into the next official statement.)
With overall union membership on the decline — including a recent drop in the UAW's own membership numbers — the scandal certainly isn't helping things. As longtime
New York Times
labor reporter Steven Greenhouse recently
noted
, the UAW's shenanigans are "
a terrible betrayal of the labor movement when many unions are seeking to rebound."
However, as the
Wall Street Journal
editorial board
recently
pointed out,
the UAW may be leading the pack, but it's not the only union that's been marked by scandal: "Such corrupt labor practices are widespread. The Labor Department audits unions, and in 2016 nearly one in five such inspections led to a criminal case."
But with the possibility of a
government takeover
of the union still looming, the UAW might just win the award for most corrupt labor union of the modern era.