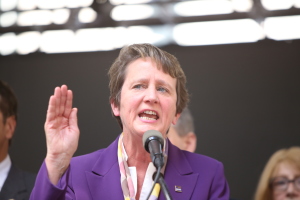 Union members to Mary Kay Henry: You crossed a line. A group of Nevada union members recently sued Henry, international president of the Service Employees International Union (SEIU), and other SEIU officials for seizing control of their local union.
Last month, Henry removed Cherie Mancini, board member of the Nevada-based SEIU 1107, after Mancini cancelled a contract ratification she deemed harmful to Local 1107's members. Mancini publicly accused the union's bargaining team of violating its fiduciary duty to membership. Within days, Henry stripped Mancini of her board membership and suspended her union membership; removed Sharon Kisling, SEIU Nevada's former executive vice president from office; and took control of Local 1107's finances, contract negotiations, and day-to-day operations. The SEIU has allegedly taken out credit cards on the local union's account.
Now, Mancini and nine union members are speaking out against Henry's forced trusteeship, calling it a "manufactured emergency" situation. The plaintiff is Raymond Garcia, a dissatisfied Local 1107 member. Peter Nguyen, Local 1107's former director of organizing and representation, claimed the following: "I'm certain that there's irreparable harm that's taken place to the members because the bargaining process has clearly been disrupted."
The SEIU's bickering now moves to a federal court, which will decide whether to reverse the trusteeship. Power struggles: Just another perk of union membership.