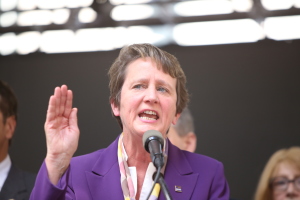 If you've ever been to an In-N-Out, you'll know that the company's distinct style consists of two colors: Red and white. From the employee uniforms to the paper to-go bags all the way down to the bathroom tiles, everything is similar.
No longer.
This month, an administrative law judge for the National Labor Relations Board ruled that In-N-Out must cease enforcing its rules relating to wage and labor-associated paraphernalia. Specifically, the California fast-food chain now must allow employees to wear campaign buttons and pins that bear slogans in support of the SEIU's $70-million "Fight for $15" campaign.
It's a startling turn of events for the California burger chain. A few years ago, In-N-Out was trumpeted by politicians and labor advocates as a model employer for its ability to pay a $10.50 starting wage with benefits. At the time, In-N-Out was only too happy to bask in the praise. Flash forward to 2015, when any starting wage less than $15 an hour has been deemed too cheap by the SEIU. With the goalposts moved, In-N-Out was no longer a model employer—it became a target. The SEIU's Mid-South Organizing Committee made this clear when it lodged an unfair labor practice charge against the company after a manager asked union-aligned employees at an Austin location to remove their "Fight for $15" pins.
The SEIU's fast-food campaign is ultimately about boosting its membership rolls, not raising the minimum wage. In-N-Out, which is famously not a franchised company, may be a uniquely attractive target for the union in this regard. In any case, the company's reversal of fortune with labor advocates is a cautionary tale for other companies who consider throwing their lot in with supporters of a higher minimum wage.