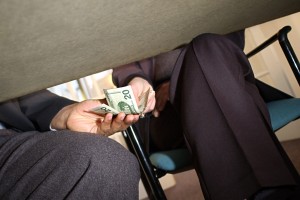 Ann Twomey, president of the Health Professionals and Allied Employees (HPAE)—a health care labor union and affiliate of Randi Weingarten's American Federation of Teachers (AFT)—faces a lawsuit filed by five of the union's members that alleges she steered $1.4 million in legal fees to her boyfriend without properly disclosing the relationship.
The New York Post quotes the attorney for HPAE members filing the suit alleging that since 2006, Twomey has "awarded virtually all of the union's legal work to her live-in boyfriend." The members argue that this is illegal under federal law and that the Department of Labor requires Twomey to disclose this potential conflict of interest.
Court documents show that HPAE is a defendant in the case, and we can only guess as to how many union dollars will be used to defend Twomey in court. Twomey is well-connected in the union hierarchy. In addition to running HPAE, she is also the Vice Chair of AFT Healthcare, Vice President of the New Jersey State AFL-CIO, and Co-Chair of AFT-New Jersey.
Twomey denies the allegations, and the HPAE leadership is closing ranks to defend one of its own. Time will tell whose arguments wins out, but the suit suggests (to use one plaintiff's words) that "accountability and transparency" may be in short supply at this AFT affiliate.