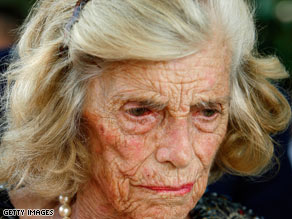 I had this moment of hope.
The Sacremento Bee reported that the SEIU is displaying its "softer side" by encouraging state workers of California to display lawn signs stating they were members of the SEIU.  This was in order that Californians would realize that people in the union are their friends, neighbors, and colleagues.  Warm feelings for securing the future of union member's pension funds and affection for bankrupting the state were supposed to follow.  The Sacremento Bee reports:
The campaign is a courteous counterpoint to the angry rallies, aggressive ad campaigns and strike threats the union has employed in the last few months as it unsuccessfully pushed Republican legislators and Gov. Arnold Schwarzenegger to ratify the local's stalled labor contract.
Could yard signs be the breadth of fresh air needed to clear the air between the Gubernator and the unions–specifically the SEIU?  Could it be that the SEIU in California has decided to play nice?
Apparantly not.  To stymie  cuts in home care programs, Governor Schwarzenegger's mother-in-law Eunice Kennedy Shriver was the union punching bag. In an SEIU press release:
"Your mother-in-law did fight so that people could live independently," said Lillibeth Navarro, Executive Director of Communities Actively Living Independent and Free.  "So how would she feel about you honoring her fight in one breath and at the same time cutting the vital services that allow seniors and people with disabilities to live independently?"
Isn't there a rule about leaving people's family out of it?
Perhaps the California union contingency is taking its cues from SEIU President Andy Stern who on Friday called those is opposition to health care "loud and venomous" and "attack dogs," full of lies, stunts, and smears.