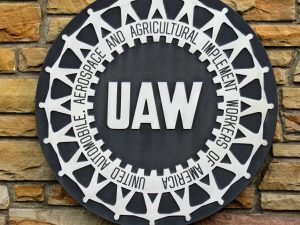 Last week, former United Auto Workers (UAW) presidents Dennis Williams and Gary Jones checked into prison to serve their respective 21-month and 28-month sentences as punishment for their roles in the corruption scandal at the union. It represented what should be a symbolic end to the years-long investigation that found several high-ranking union officials guilty of embezzling union dues and defrauding members.
But the drama at the UAW may not be over yet.
UAW members are gearing up to vote on whether or not the union's leaders should be decided by direct election — an idea that gained popularity at the height of the federal investigation into wrongdoing at the UAW. As more leaders were accused and found guilty of contributing to a culture of luxury and excess — all at the expense of the union's rank-and-file — union members called for a move to a "one member, one vote" system. Right now, union leaders are chosen by delegates at a convention that's held every four years.
According to the court appointed independent monitor, election ballots will be mailed out in October and the results will be tallied "as soon as possible." But current UAW leaders don't seem to want to stay neutral on the matter.
The UAW and the Department of Labor's Office of Labor-Management Standards "have reached an impasse on the issue of the use of Union resources to advocate on the Referendum question." The UAW wants to amend the rules "to potentially allow limited and monitored use of union resources." Translation: the union wants to use members' dues money to discourage members from voting in favor of direct elections.
We already know recently retired UAW President Rory Gamble is skeptical about allowing direct elections. He's come out against them as a solution to the union's long standing corruption problems: "To say how we elect our leadership involves corruption in any way is just not true. It is simply a political reach and something being perpetrated by people who see an opportunity here from a very bad situation."
If the UAW gets its way, the timeline for voting could be extended. But in the meantime, the monitor noted that "any use of union resources to advocate for either side of the referendum will be a violation" of the rules.
If the UAW is truly committed to reform, it should remain neutral on the issue of direct elections and take its lead from auto workers. It's the least UAW leaders can do to make things right for its rank-and-file.