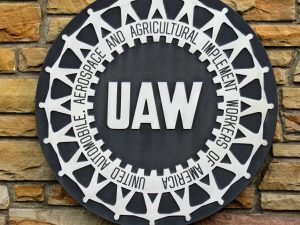 Today, the U.S. Department of Justice announced a long-awaited settlement deal with the United Auto Workers (UAW) union. The deal is meant to weed out corruption in the union following a multi-year federal investigation that found 12 UAW officials — including the wife of a former official and two former union presidents — guilty of an array of crimes, including embezzling union funds and defrauding union members.
The settlement includes six years of federal union oversight by a court-appointed independent monitor. It also allows union members a secret ballot election where they can vote on whether to change their constitution to allow for the direct election of future leaders. UAW rank-and-file have called for direct elections in the past as part of the Unite All Workers for Democracy movement.
While the appointed monitor will oversee this election and other anti-corruption reforms, he or she will not play a role in negotiating collective bargaining agreements on behalf of the union. The monitor will, however, be able to exercise disciplinary power within the union, and should corruption concerns continue, the monitorship could be extended for longer than the initial six years.
In a press conference, U.S. Attorney Matthew Schneider said the goal of the settlement was "genuine democratic reform" at the UAW, where former leaders have been convicted of "breaking federal labor laws, stealing union funds, receiving bribes and illegal benefits, and trying to cover up the crimes." The union has already paid back $15 million in improper chargebacks, as well as $1.5 million to resolve tax issues, according to the U.S. Attorney. The settlement did not include any further fines or penalties for the union, noting that any additional charges would come from the pockets of union members, who have already lost millions of dollars.
This corruption scandal — which we've documented at UAWInvestigation.com — has placed a long-lasting black mark on the UAW's record. Regaining members' trust won't happen over night, despite current President Rory Gamble's promise to ensure the independent monitor's job is a "boring" one — i.e. free of any future scandal.
This settlement puts an end to the years-long investigation at the UAW. The result is a win for the thousands of auto workers who have been wronged by a union that was supposed to protect them, and a crucial first step in holding UAW leadership accountable to its rank-and-file.