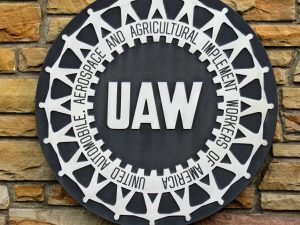 Last week, former United Auto Workers (UAW) President Dennis Williams became the 15th person to be convicted in the ongoing investigation into union corruption. He is the 11th UAW official overall to plead guilty, and the second former president.
As an ad we're running today in the Chattanooga Times Free Press states: "[Volkswagen] employees have twice rejected the UAW. With his guilty plea this week, the UAW's former president demonstrated why."
The last we heard from Williams, he was being held at gunpoint while the FBI raided his home in California. Agents seized several items in the raid, including golf clubs and other golf merchandise. Now, he joins the UAW's hall of shame for betraying workers' trust.
Williams tried to lay much of the blame on his fellow former President Gary Jones, saying of the union's lavish expenses, "I knew in many cases such as golf and cigars, that there was no good-faith basis to think these expenses were for the benefit of our union."
When it came to these and other expenses, including stays at luxury resorts or dinner at five-star restaurants, it seems Williams easily overlooked any questions he had. All it took was Jones assuring him that all of the payments were "above board." Jones himself recently pleaded guilty for helping embezzle almost one million dollars in members' dues. Williams did admit that he made a "deliberate and conscious decision" not to actually check to see if Jones was telling the truth.
The charge against him is punishable by up to five years in prison and a $250,000 fine. However, under his plea agreement, Williams may not see more than 24 months of prison time. We won't know his final fate until he's sentenced in January.
Williams said he hopes that by accepting responsibility, he can help "restore faith" in the UAW. Good luck with that. His guilty plea is just the latest example of how the UAW failed its own members. With government oversight of the UAW still on the table, workers aren't likely to forget Williams' or any other union leaders' crimes any time soon.