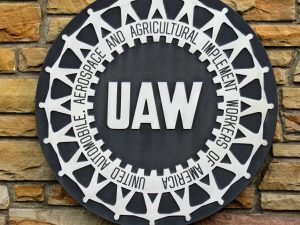 After a years-long federal investigation into corruption in the ranks of the United Auto Workers (UAW), more than a dozen people have been convicted — most of them former UAW officials. Now, the threat of a government takeover of the union is one step closer to becoming a reality.
This week, the U.S. Justice Department proposed subjecting the UAW to "10 years of federal oversight to eliminate corruption within the union." The proposal comes after the latest guilty plea from former UAW President Gary Jones, who confessed to embezzling hundreds of thousands of members' dues dollars. According to court documents, Jones was part of a multi-year scheme to divert money from the UAW for his personal use and the use of other UAW officials. Jones reportedly used the money to "splurge on private villas, golf outings, boozy meals and horseback rides on the beach."
As one analysis from a Penn State Harrisburg professor stated, "Removing the top leadership doesn't necessarily lead to long-term change. Monitorship could be a healthy remedy." Auto workers seem to agree. One UAW member at the Fiat Chrysler Automobiles Warren Truck Plant said a takeover was "definitely needed." In fact, auto workers appalled by the union's actions have already been calling for their own reforms. They formed a group called United All Workers for Democracy that aims to instate "one member, one vote" elections. The goal is to help members better hold their leadership accountable.
Given this latest bout of bad press, it's no wonder the union's international leadership is avoiding the spotlight. The Democratic National Convention taking place this week would normally prompt participation from the UAW's top leaders, especially considering presidential nominee Joe Biden's stated commitment to bolstering the U.S. auto industry. Then-president Dennis Williams notably held court with reporters at the 2016 National Convention. In 2012, UAW President Bob King addressed the convention with an onstage speech. Alas, this year there's been no sign of anyone from the union's current headquarters.
Instead, former president Bob King made a brief appearance, though it wasn't in support of Joe Biden. Additionally, vice president of Michigan-based UAW Local 5960 is scheduled to speak. Perhaps the union hopes remarks from a local leader will be a distraction from the International's misdeeds.
Unfortunately for the UAW, this is far from the last negative headline regarding the union's corruption scandal. But for the thousands of auto workers that are tired of the union's tactics, a government takeover might be the perfect solution.