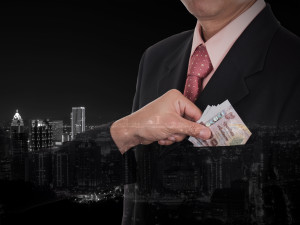 Union dues are being used for union leaders' personal benefits, not members' benefits. Here are this week's best rackets:
In Illinois, Thomas M. Miller, former Secretary-Treasurer of Brotherhood of Locomotive Engineers and Trainmen (BLET) Division 815, was charged with embezzling approximately $10,686 in union funds.
In Rhode Island, Christopher Hayes, former Rhode Island Police Department Sergeant and former President of Fraternal Order of Police (FOP) Lodge 8, pled guilty to an information charging him with one count of wire fraud. Hayes admitted to the court that, between August 2009 and December 2014, he used an FOP debit card to pay for his own personal expenses; wrote checks payable to himself from the FOP bank account; withdrew cash from the FOP bank account for personal use; and made online payments to his personal credit card from the FOP bank account, converting approximately $71,523 in union funds for his own personal use.
Check in next week for more union fails.