Center for Union Facts: Ask Rand Weingarten why America's kids can't count or read.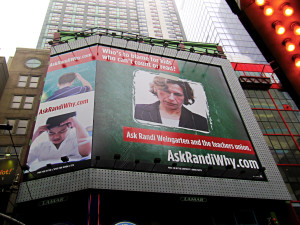 Washington, D.C. – As part of its ongoing campaign against the toxic effects of teacher unions on U.S. education, the Center for Union Facts has placed a billboard just off Times Square calling out American Federation of Teachers (AFT) President Randi Weingarten for contributing to America's education decline. The recently released results of the OECD's triennial Program for International Student Assessment showed that American students slipped again relative to their international peers in the subjects of math, science, and reading.
The billboard (viewable here) is located on 42nd Street between 7th and 8th Avenues.
The billboard features two pictures of children who are struggling in the classroom with a larger image of Weingarten beside them. The headline asks, "Who's to blame for kids who can't count or read?" It then prompts viewers to "Ask Randi Weingarten and the teachers union," before directing them to visit AskRandiWhy.com.
"Randi Weingarten and the teacher unions have for decades now placed their interests before those of America's children, and the effects are on full display," said Richard Berman, executive director of the Center for Union Facts. "Children in the United States continue falling further behind their international peers in the critical subjects of math, reading, and science, a trend that will continue without fundamental reform."
Berman concluded, "Weingarten and the AFT have plagued America's schools long enough. It's time for them to go."
More information is available online at AskRandiWhy.com.