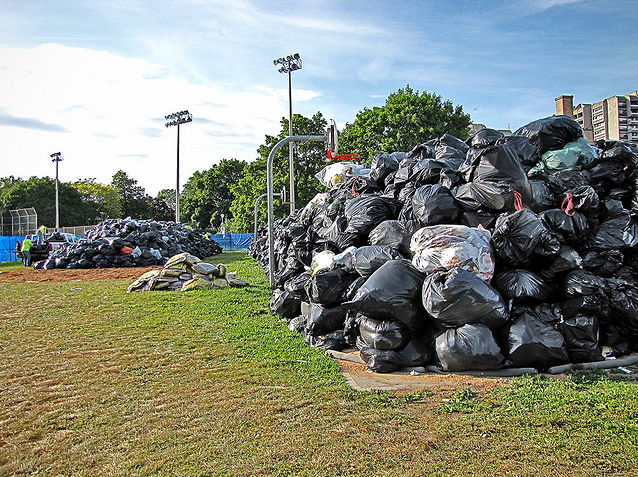 Sometimes I think there is never a more abrupt reminder that sometimes unions….stink….than when the garbage starts piling up in idyllic suburban neighborhoods. The Teamsters know this. From the Wall Street Journal:
A deal that would have brought laid-off sanitation workers back on the job was voted down by the Teamsters Union local that represents them Wednesday night. The city has been struggling to pick up its trash since the beginning of the month, when a union fight, budget cuts, the heat wave and the Fourth of July holiday all came together to hinder trash pickup. […]
The city is trying to get more crews out, said David Simpson, the mayor's spokesman.[…]  They also keep calling in sick. Forty-eight workers pick up trash on a normal day in Yonkers. Forty-six called in sick Tuesday. […] "We are left to assume that members of the Teamsters union, individual members, have taken it into their own hands to protest the budget cuts that are going into effect," Mr. Simpson said."
They also don't seem particularly eager to clear things up. The Teamsters seem set on letting the wound fester. From yesterday:
"The offer is still on the table for the Teamsters union, which voted down a deal Wednesday afternoon that would have restored twice-a-week garbage pickup and all sanitation jobs. The mayor tried to get in touch with the union but had heard nothing back from them yesterday, Simpson said, adding that the current administration offer on the table "may not be available for long."
Image courtesy of TorontoCityLife.