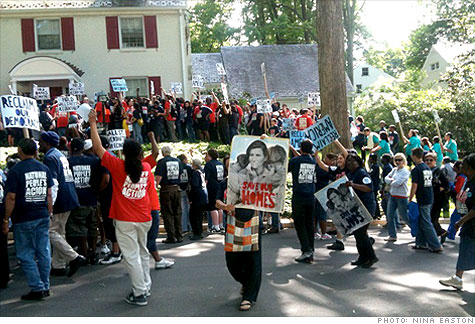 Here's a life lesson. If you are going to ignore conventional protesting practices and take a page from the play book of some of the most egregious protesters in modern times, make sure you check who lives next door. There could be a journalist nearby–a journalist with a camera and a website. And check that your "target" is home, not his frightened son hiding in the bathroom.
The SEIU probably couldn't have planned it worse when they decided to protest at the house Greg Baer, the deputy general counsel for corporate law at Bank of America.  Despite their own desire to minimize the coverage of the protest, by just bringing a sympathetic HuffPo reporter, Baer's neighbor was none other than Nina Easton, the Washington Bureau Chief of Fortune Magazine. I'll let her take it from here:
"Last Sunday, on a peaceful, sun-crisp afternoon, our toddler finally napping upstairs, my front yard exploded with 500 screaming, placard-waving strangers on a mission to intimidate my neighbor, Greg Baer. Baer is deputy general counsel for corporate law at Bank of America (BAC, Fortune 500), a senior executive based in Washington, D.C. And that — in the minds of the organizers at the politically influential Service Employees International Union and a Chicago outfit called National Political Action — makes his family fair game."
"Waving signs denouncing bank "greed," hordes of invaders poured out of 14 school buses, up Baer's steps, and onto his front porch. As bullhorns rattled with stories of debtor calls and foreclosed homes, Baer's teenage son Jack — alone in the house — locked himself in the bathroom. "When are they going to leave?" Jack pleaded when I called to check on him. Baer, on his way home from a Little League game, parked his car around the corner, called the police, and made a quick calculation to leave his younger son behind while he tried to rescue his increasingly distressed teen. He made his way through a din of barked demands and insults from the activists who proudly "outed" him, and slipped through his front door."
"Excuse me," Baer told his accusers, "I need to get into the house. I have a child who is alone in there and frightened."
Those of us who watch SEIU protests know sort of what we should expect. This was outside of that. As Easton put it:
Targeting homes and families seems to put SEIU in the ranks of (now jailed) radical animal-rights activists and the Kansas anti-gay fundamentalists harassing the grieving parents of a dead 20-year-old soldier at his funeral (the Supreme Court has agreed to weigh in on the latter). But that's not a conversation that SEIU officials want to have.
I should add that there were no arrests, because the three officers on hand feared inciting the rabble-rousers.
Image courtesy of Nina Easton. I hope she doesn't mind.