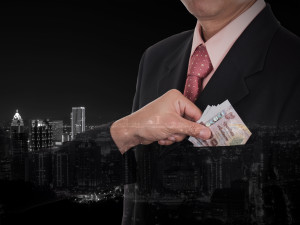 Another week and more stories of union bosses swindling their members' dues money. Below are this week's best rackets:
In New York, Brian W. Scott, former President and Business Manager of International Brotherhood of Electrical Workers (IBEW) Local 503, was sentenced to one year and a day in federal prison followed by two years of supervised release. Scott was also ordered to pay restitution in the amount of $68,771. Why? In November, Scott pled guilty to one count of mail fraud.
In California, Edward Padilla, former Secretary-Treasurer and Business Manager of Laborers Local 220, was charged in a one-count information with embezzlement of union funds totaling $168,780.
In Pennsylvania, Stephen Royer, former Secretary-Treasurer of Machinists Lodge 243, was charged in a five-count indictment, which included one count of embezzling $130,870 in union funds and four counts of filing false reports.
Check in next week for more union shenanigans.