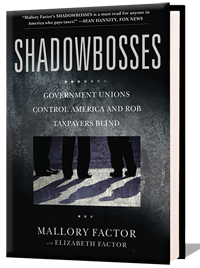 Shadowbosses by Mallory Factor is one of the most-talked-about books about labor unions in quite some time. And for good cause — Factor's book is a must-read.
The book is great for those who are new to the subject, as well as people in-the-know who will still learn a lot about union corruption and the influence that Big Labor has with the current administration.
Factor lays out the case that public sector labor unions, and more specifically, their leaders, are power brokers in Washington and in state capitals across America. With reports that the teachers unions in California see themselves as "the co-equal fourth branch of government" and that their top lobbyist gets a seat at the budget bargaining table, it's easy to see what Factor is talking about.
The book details the close relationship that former SEIU president Andy Stern had with the president. It might not be news to regular readers here, but Factor goes into more detail on how valuable that connection really was. In the chapter "Union-Label President," readers learn that union leaders have enjoyed invites to state dinners and frequent visits to the White House. The stimulus is properly labeled as the "union stimulus" and other government spending projects, such as the auto bailouts, are exposed as union-supporting endeavors.
But some of the biggest headlines from the book come from Factor's revelation that the SEIU is ready to turn the Affordable Care Act (also known as "Obamacare") into a boon for unions by adding 21 million new members to its rolls.
Some of the largest and most powerful public sector unions – teachers unions – are given plenty of attention as well. Teachers unions are some of the most powerful labor groups in each state, andtogether they take in over $2 billion in dues each year. They've done well in grabbing taxpayer money for schools, but student performance has stagnated or worsened over that time.
Public sector unions have a luxury (and a power) that private sector unions don't—they elect their bosses. That's why they spend billions on political activity at every level of government. This leads to the influence that union bosses have on politicians.
And it isn't just the big ticket advantages that union bosses can bring in, such as more school spending and project labor agreements. It's also the little things that add up: Factor notes that New Jersey law requires a police officer to be on a construction site at all times, which contributes to a six to elevenpercent price increase for all construction projects.
Factor concludes that union leadership understands that they must expand in order to survive. The way to do this will include forcing more employees who do work related to or for the government to unionize. Factor calls this "Government Employee Unions 2.0," a strategy pioneered by the model "Union Boss 2.0," Stern.
But Shadowbosses isn't a downer: Factor also explains how some Americans, including a few popular governors, are fighting back against the once-unchallenged power of union bosses. But even more importantly, private sector union members are recognizing that their interests no longer align with their public sector counterparts. The consequence of a private sector union refusing to cooperate with an employer could spell doom for both parties, but would otherwise not affect fellow citizens. Public sector unions have driven government budgets up to (and sometimes over) fiscal cliffs, harming all citizens.
Factor's Shadowbosses brings union leaders out of the darkness and into the much-needed critical spotlight.