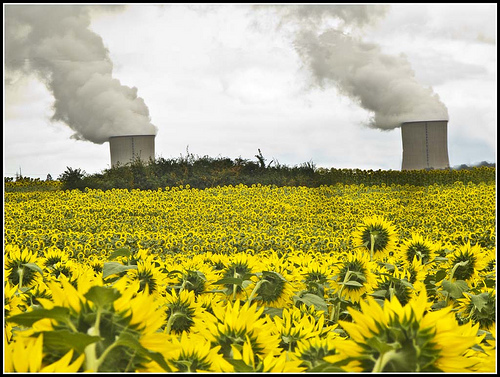 I've written about labor backed "green" jobs before (like HERE and HERE),   It's another way for unions to edge into jobs, harm companies and employees, and stomp their foot during contract negotiations.
Here's the setup. The Hill explains:
"While the Obama administration's embrace of nuclear energy has angered some environmental groups, it has won solid support from the labor movement. Each new nuclear reactor built could create hundreds of jobs for electrical engineers, pipe-fitters and construction workers. Based on industry statistics, most of those jobs will be union jobs, offering labor a way to boost membership rolls after years of decline.
The problem is that this is creating tension among labor's blue-green bedfellows who are in the environmental fight because of their ideals. Since labor unions were really looking at this as a way to make jobs, get federal money, and bolster their reputation–well, you can see how this might be a problem with some environmental groups.  This is where the rubber meets the road. The Hill:
"We have adopted a smart strategy of talking about things we agree upon. That's why we don't talk about nukes," said Stewart Acuff, chief of staff of the Utility Workers Union of America. Environmental groups see a dangerous and expensive fuel. […] [L]abor officials argue the administration's plan to provide $54 billion in federal loan guarantees to new nuclear plants will create thousands of "green jobs." It's more than a semantical distinction. Green job designations could beget ever greater federal support.
"Absolutely, we consider nukes green jobs," said Charlie Mulcahy, chief international representative for the Sheet Metal Workers' International Association. The green job tag has more typically been applied to windmills and weatherization projects, and environmental groups seem to want to keep it that way. "The Sierra Club does not consider nuclear-industry jobs to be green jobs, because nukes are neither clean nor green," Josh Dorner, a group spokesman, said. Greenpeace has opposed climate legislation in Congress in part because the bills provide "money for dirty technology," including nuclear power."
Image courtesy of Funky64.